Subscribe
This Thanksgiving, Give Your Budget Something to be Thankful For
Holidays | Savings | Budgeting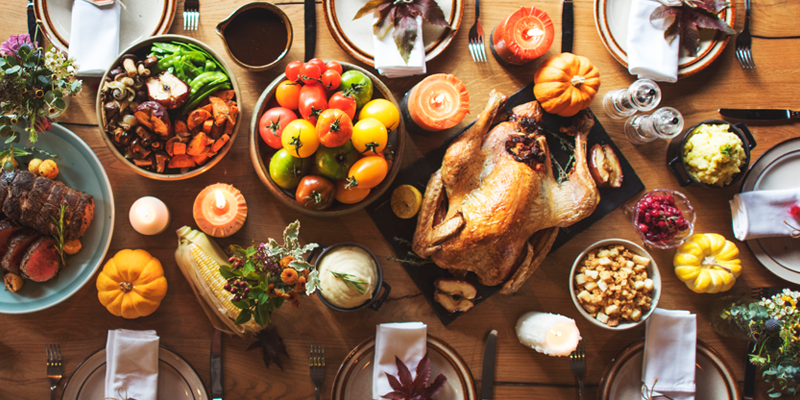 Thanksgiving will be here next week! It's the perfect time to reflect on what you're thankful for and spend quality time with family and friends. While some may be wondering where this year has gone, most are dreaming about turkey, stuffing, and pie.
If you're hosting the meal, you might be doing a little less dreaming and a little more stressing—it's a lot of pressure to dish-up the meal that only happens once a year! It can also cost a lot.
Believe it or not, the average cost of feeding ten on Thanksgiving is $49.12—if you're making the "classic" turkey day dishes. But most of us don't stop at the classics! And when you factor in the cost of ingredients to make extra sides and multiple desserts, in addition to decorations to really set the ambiance, it can all add up to more than what you bargained or budgeted for. But it doesn't have to break the bank.
Here are seven tips to help you save on your Thanksgiving feast without compromising quality.
Confirm Who's Coming
This might sound obvious, but before you start crafting a spectacular menu or detailed shopping list, confirm who's coming. It's not always a given that every family member will show, or that everyone invited will be able to make it for the entire meal. Travel, work, weather, and managing multiple invites can all affect when and if guests arrive.
While left-overs are great, an accurate headcount of who's coming, and for what course, can help ensure you aren't over-planning or over-spending.
Find Out Favorites—and Allergies
Once you've nailed down who's coming, remember to ask about food preferences and allergies. Aside from saving you time and money in the kitchen making unnecessary dishes, this can help you avoid awkward moments at the table—like when cousin Connie can't find anything to eat because she's now gluten-free or Uncle Al feels the need to remind you of his disgust for all veggies except corn.
It can also go a long way in making people feel welcome at your table.
Say "Yes" More Often
There will always be a few people who just want to show up for the food, but most are more than happy to pitch in. So when planning your Thanksgiving menu, make a note of the dishes you're okay getting help with. This way, you'll be prepared when guests ask what to bring, and you can keep track of who's contributing what to avoid duplication.
If someone makes a special dish that's always a crowd pleaser, it's okay to ask them to bring it—don't stress over pumpkin pie if you know Grandma makes it best.
Serve on Smaller Plates
Thanksgiving and small plates are two things that sound like they'll clash. But the reality is that while we tend to load up our plates, most end up being too full to finish a second or third round that initially seemed like a good idea.
Smaller plates can help reduce waste, while still giving you and your guests the satisfaction of filling plates with all the fixings. As an added bonus, you'll have more room for dessert!
DIY Décor
It's possible to create a beautiful, Pinterest-worthy tablescape without blowing your budget. All you need is your imagination and some items you probably already have. For instance, you could glue cinnamon sticks around a candle or design an autumn-themed centerpiece with leaves and pinecones from your yard.
If you're looking for a little bit more, try your local dollar store for discounted décor that still packs a punch. A quick online search is all you need to get your creativity going.
Shop the Sales
Grocery stores and other retailers tend to run specials on Thanksgiving staples as early as Halloween—some even offer free turkeys to anyone who spends a certain amount by a specific date. Plan your menu in advance and pay attention to the circulars to ensure you're able to take advantage of the discounts.
And don't forget to be flexible. It's okay to modify your dishes to include ingredients and produce that are on sale.
Cook From Scratch
There's no denying that convenience helps to alleviate some meal-prepping stress, but you pay more for pre-made foods.
A little advanced planning can ensure cooking from scratch remains fun instead of frustrating—you could even make it a family affair. And your guests will appreciate the homemade taste that is hard to replace.
Regardless of how elaborate your meal is, and how much you spend, remember to make time to sit and enjoy the celebration with family and friends.