'Tis the Season for Holiday Shopping Safety Tips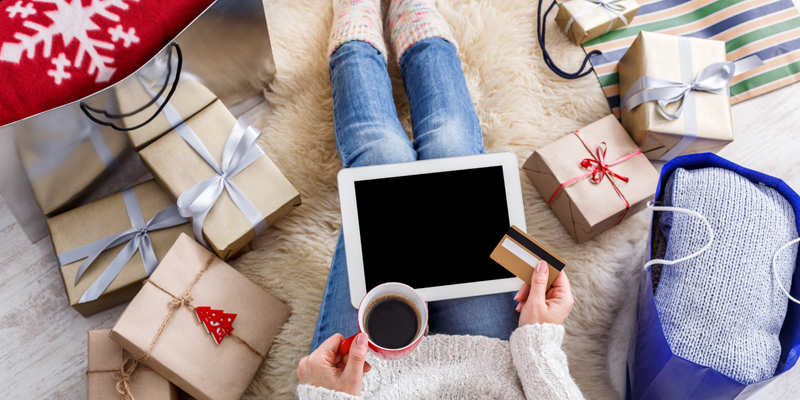 Holiday promotions and in-store displays may have been out since Halloween, but the shopping season doesn't really kick-off until Black Friday. This is an exciting—and potentially overwhelming time—for shoppers, but the reality is that while we're out looking for the best gifts and deals, scammers are looking for their next target. But that shouldn't keep us from enjoying the gift-giving festivities.
Whether you're braving the stores this Friday or waiting for Cyber Monday deals, the following tips can help you shop safely during the holidays and beyond.
Be Mindful of Your Surroundings
Crowded stores and distracted shoppers are an easy target for pickpockets. You're expecting to get bumped and thieves can easily disappear into the crowd.
Don't make it easy for someone to snatch your stuff. Wear your purse straps across your body, keep your wallet in your front pocket or inside a closed jacket, and if possible, carry the bare minimum—driver's license, health insurance card, and debit card.
Block RFID Readers
With today's Radio-Frequency Identification (RFID) technology, people don't need your wallet to gain access to your personal information.
Debit and credit cards emit RFID signals or radio waves that help retailers read and capture the data needed to complete your transaction. The problem is that thieves with access to an RFID reader can intercept the same information.
To ensure you can shop with the account protection provided by cards with chips in them without falling victim to RFID readers, invest in an RFID-blocking wallet. It might even be a good gift for someone on your list.
Consider Using Apple Pay or Samsung Pay
Apple Pay and Samsung Pay use tokenization to complete transactions. With tokenization, your primary account number is replaced by randomly-generated numbers so a payment can be made without exposing your bank details—making this one of the safest ways to pay.

However, it's important to remember that not all Samsung Pay transactions are tokenized. And in those cases, your payment would still be made but the level of protection would be the same as using a regular card.
Don't Leave Checks in the Mail
If you're sending a check as a gift or to pay a bill, drop it into a big blue mailbox, bring it to your local post office, or hand it directly to your mail man/woman.
You could also consider signing up for online bill pay to minimize the number of checks you need to write for recurring payments like utilities.
Understand the Dangers of Every Form of Payment
Cash is portable and untraceable; cards without EMV chips are targets for skimmers while EMV cards can be skimmed with specialized equipment; cards, cash, and mobile phones can all be stolen; and even checks are susceptible to fraud.
The best way to protect yourself is to stay educated and take advantage of the protection offered with your accounts and cards. Simple things like setting up transaction alerts and bringing cash to small boutiques with outdated technology can go a long way in ensuring your security.
Bring Your Own Bag
Bags from certain retailers can subtly hint to the amount of money you have access to, while multiple bags could potentially send the message that you're distracted or getting tired.
Bringing your own bag can help ensure you aren't a walking ad, while also making it easier for you to sneak gifts into the house.
Take a Trip to the Car
If you're carrying a lot, you're less mobile and less likely to feel someone take something from you. That's why it's important to take breaks while shopping to bring your purchases to the car.
Just remember to keep receipts in your wallet and tuck the bags somewhere hard to see. It's also a good idea to take pictures of your purchases in the car as some insurance companies might cover the loss if your car was stolen or broken into.
Buy Yourself a Holiday Drink at the Coffee Shop
You're safer if you're alert—and holiday drinks are delicious!
Be Ready for January
If you binge on holiday shopping, you'll probably need to purge and regroup in January. Keep your receipts and cross-reference with your account charges to ensure everything is accounted for. It's also a good idea to check your credit report.
And while you're checking your accounts and credit, take the time to set yourself up for success in the new year.
File your taxes. You'll already have most of what you need in front of you, so you could start tax prep early.
Rework your debt. While you're confirming your transactions, take a look at the interest rates on your credit cards. If you have high interest cards, try to pay them down quickly, or consider a balance transfer or personal consolidation loan.
Set up a savings account for next year's holiday season. Use the amount spent this year as a guide to starting budgeting for next year. This can help you save money and stress.
While this may seem like a lot, these tips can be used throughout the year to keep you safe. And if all else fails, follow the "three-Mariah" rule—when you hear Mariah Carey's "All I Want for Christmas is You" for the third time in one day, it's time to give yourself and your wallet a break.


Brandon Oldham