Women's History Month: Women in Finance

March is Women's History Month. At Mutual Security Credit Union, we're proud to join in the nationwide celebration of women. To do that, we'd like to take this time to recognize five important women in the history of finance and entrepreneurship who are rarely applauded despite their trailblazing work.

Maggie Lena Walker, first female bank president

Maggie Lena Walker was the first woman to charter a bank. The St. Luke's Penny Savings Bank was a community lending institution designed to promote savings and homeownership. Founded in 1902, the bank served the Richmond, Va. area for several years before merging with two other banks. Walker then served as chair of the board for the consolidated bank. By 1920, they had helped more than 600 people buy homes, setting the standard for community lending institutions. Walker's trailblazing business spirit, at a time when women couldn't yet vote, is most remarkable.

Marie Van Brittan Brown, inventor of the home security system

Every financial institution has some modern iteration of the device Marie Van Brittan Brown pioneered: the home security system. Concerned about police response time to calls for help, Brown put a camera on a mobile swivel to enable it to view the front door through each of four peepholes. A motion sensor triggered a recording device, and the system also enabled the homeowner to view and listen to the cameras by using a television set. Brown's system soon caught on in businesses around the country.

Victoria Woodhall and Tennessee Clafin, first female stock brokers

These two sisters broke the gender barrier on Wall Street and ran the first female-owned brokerage. Despite facing blatant sexism, they quietly made millions advising clients like Cornelius Vanderbilt. Woodhall went on to be a polarizing figure in the suffrage movement, making the first recorded run for president as a woman 50 years before women were allowed to vote! Her intellect was instrumental to the passage of the 19th Amendment.

Rosemary McFadden, first female exchange president

Rosemary McFadden was the first woman to serve as president of any American exchange. Starting her career as a staff attorney for the New York Mercantile Exchange, she went on to become the first female president of that organization or any other American trading exchange in 1984. Despite the steep resistance she encountered, McFadden was a strong, effective leader.

Abigail Adams, first female investor

President John Adams's wife is mostly noted for her documentation of the home front during the Revolutionary War and for her advocacy of women's rights. Lesser-known, though, is that she's also America's first documented female investor. Adams managed the household financial affairs while her husband served in war and, later, as president. She earned a great deal investing in government bonds. In one exchange, her husband advised her to invest in farmland. She purchased bonds instead and made quite a bit more money!

Your Turn: Which influential women in your life would you like to honor this month? Let us know in the comments!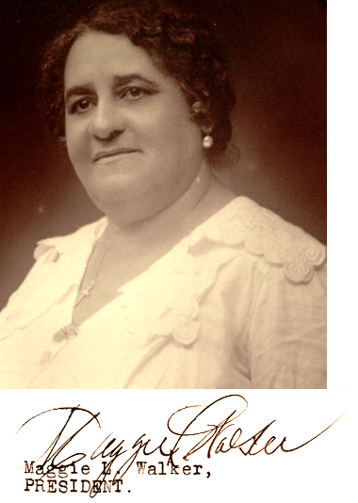 Mutual Security Credit Union