Subscribe
Holiday Hacks for Traveling College Students
Holidays | Travel | Student | Savings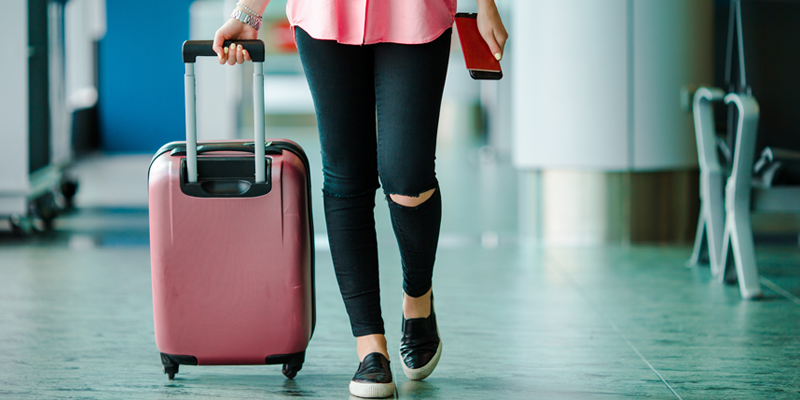 Halloween is over and the holidays will soon be here. And for many college students that means it's time to start planning for the trip home.
While this is an exciting time for most, it can also represent a financial hardship. As a parent of someone who went to school out-of-state, I understand that whether by plane, train, bus, or car, the journey home can get expensive for students and their parents. It doesn't help that the holiday season is also one of the most costly travel times during the year.
The good news is that there are things you can do to help minimize costs and alleviate related stress, so you can focus on celebrating with family and friends.
Here's some ideas to share with the students in your life to make holiday travel more wallet-friendly.
Start Saving Now
If you have a part-time job, start to set aside money each week to help cover travel costs. If you aren't working, or saving isn't an option, try skipping one small indulgence per week. The money saved on a coffee run, or a lunch date with friends, could pay for an Uber to get you to the airport, train, or bus station. Remember, it's never too late or too early to save, and every little bit helps!
Use Student Discounts
A lot of travel companies understand that students don't have consistent income, so they offer discounts to offset the cost of expensive fares. Here are some websites to check out before purchasing a ticket.
Traveling by plane? Visit studentuniverse.com for a listing of airlines offering discounted tickets to students
Traveling by train? Amtrak now offers student discounts for travel year-round
Traveling by bus? Try Greyhound's Student Advantage Discount Card
You can also do a quick Google search for current student discounts and deals. Or if you're interested in traveling via a specific company, you can visit their site directly.
Be Flexible When You Fly
If you're hopping on a plane, be mindful of the day you purchase your ticket and remain flexible when selecting the day and time you fly. You can get discounted rates if you shop on a Tuesday and are willing to fly when others aren't.
And always remember to compare airlines, through sites like farecompare.com, to ensure you're getting the best deal. The same is true for other methods of travel—a little research can go a long way!
Pack Light
Before you start packing, find out what the baggage policies and fees are. Unfortunately, most companies charge for carry-ons and luggage—and the cost per bag can increase if it's your second or third. You might also have to pay, or repack your bag, if it's over the set weight limit.
Make traveling easier on your wallet, and arms, by packing only what's necessary.
Don't Buy Anything at the Airport—or the Train or Bus Station
Airport shops, like kiosks at malls, are outrageously overpriced. Why? Because you're a captive audience.
It's okay to window-shop if you'd like to pass the time, but make sure your wallet is buried deep in your backpack. Even something as simple as water could cost you more than expected, so bring your own empty water bottle to fill once you're there.
Find a Seasonal Job at Home
If you're not able to save money prior to traveling, and end up depleting your cash, don't panic! A lot of retailers are looking for seasonal help, and money earned with a part-time job could help replenish your funds.
And tying it all back to the first point, you can start saving now for your next trip.
While this list is not exhaustive, it can definitely help to get you on the road home.
Do you have any tips for holiday travel? Let us know in the comments below.