MSCU Employees Donate $1,000 to Help Local Kids Get Ready for the School Year

The month of August typically marks the end of summer vacation and the start of school for many students of all ages. This means parents will be having to dish out some money on school supplies, but it's an expense that some families truly can't afford. Luckily, when there's a need, the community never fails to step up to the plate and help.
Annually, the Sterling House Community Center holds a Back-2-School event that offers school-age children in the area the opportunity to equip themselves with much-needed school supplies free of charge, including uniforms, crayons, pencils, backpacks, and snacks.
Having supported the Sterling House in the past, MSCU employees knew they wanted to get involved - especially after students had such a challenging prior year due to COVID-19. Each month employee's opt-in to the 'MSCU Jeans for a Cause' initiative that pools together employee donations to make a larger impact at a local non-profit collaboratively and it was determined this back-to-school event was the perfect way to use some of the funds. Together, MSCU employees were proud to make a $1,000 donation to enable the Sterling House Community Center to increase the number of students they could help get ready for the school year!
"We want to continue to let our community know that we're here to elevate their well-being, whether that's helping young students with school supplies, volunteering at local food pantries, or providing financial education or solutions. We just want to make sure that people understand that we are here to assist them in whatever challenges that come along," said Mike Augusti, VP of Sales and Service at MSCU.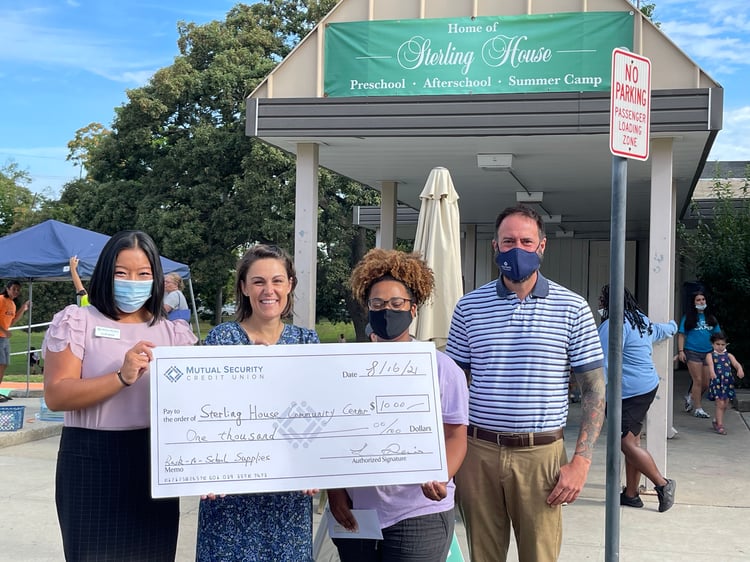 Mutual Security Credit Union