MSCU Celebrates Grand Opening of New Norwalk Branch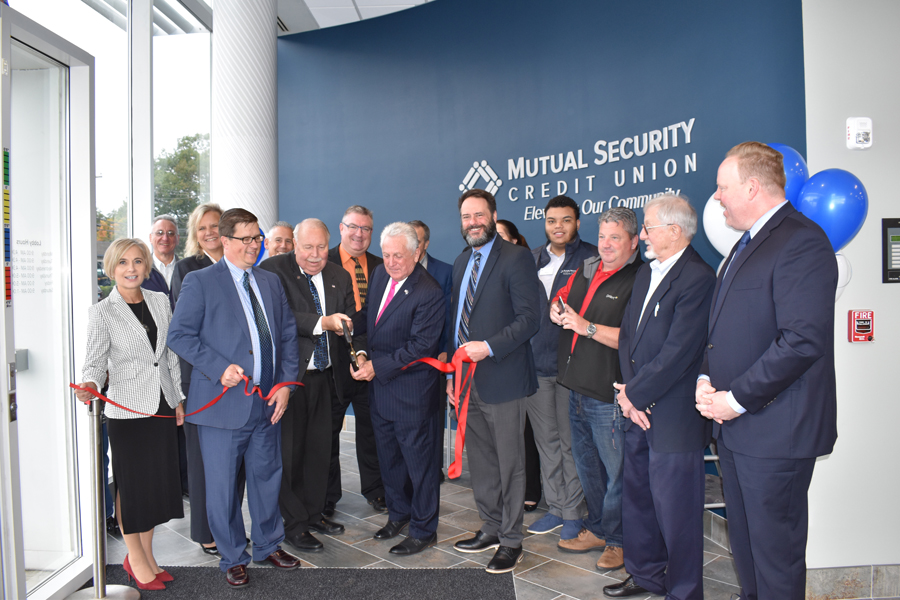 Norwalk, CT – Mutual Security Credit Union (MSCU) welcomed the public to the Grand Opening and Ribbon Cutting of their new Norwalk branch location at 541 Westport Avenue on October 17, 2019 to coincide with International Credit Union Day, a day that encourages credit unions around the world to raise awareness about the credit union difference and the positive impact credit unions have in our communities.
Following the ribbon cutting with the Greater Norwalk Chamber of Commerce and Norwalk Mayor Harry Rilling, guests had an inside look at the branch's modern design and the opportunity to explore how the new space will elevate the MSCU difference.

"This location provides an inviting atmosphere that demonstrates our continued commitment to the individuals, families, and businesses that make up the Norwalk community," said MSCU President Henry 'Hank' Baum. "There is nothing more important to us than to keep our members at the center of everything we do. This location was designed so that we can enhance the high-quality service, customized banking solutions and expert financial advice that they expect and deserve."

The 3,100 square foot branch combines personal service, the latest technology, and design elements that focus on delivering a highly personal, welcoming environment for members. To enhance member experience and service, MSCU has incorporated digital signage to showcase up-to-the minute communications and eliminated the traditional teller line through member service representative pod stations.

"We believe in implementing technology in combination with personal service to connect with our neighbors and support our community," said MSCU CEO Larry Holderman. "The pod concept gives the lobby an open and spacious feel and removes the barriers between members and staff, which we feel is a more personal approach."
The festivities continued throughout the day with fun prizes and the inclusion of Star99.9 FM hosting a live radio broadcast and a special guest appearance from the Bridgeport Sound Tiger's mascot, Storm for a meet and greet. Refreshments and special promotions will also be available in the branch throughout the month as the MSCU Norwalk team welcomes the community and answers questions about how MSCU can assist individuals and businesses with achieving their financial goals.
The Norwalk branch lobby and drive-thru will be available Monday – Wednesday, 9:00 AM to 4:30 PM, Thursday – Friday 9:00 AM to 5:00 PM and Saturday from 9:00 AM to 1:00 PM.

###

About Mutual Security Credit Union
Mutual Security Credit Union has been serving members since 1954. As a not-for-profit organization owned by more than 29,000 members, it serves the community and various employer groups. The Company's mission is to provide its member-owners with innovative financial solutions that enhance their economic well-being. Mutual Security Credit Union had total assets of $315 million as of June 31, 2019. For more information visit, www.mscu.net.

Mutual Security Credit Union