Subscribe
Meet the Team: Tiffany Keels
It's springtime! For many that means out with the old and in with the new. Whether it's installing a swimming pool, giving your kitchen a complete makeover, or turning your garage into a guest suite this spring, a personal loan can make it possible. Personal loans may be a better option for homeowners who don't have a great deal of equity in their homes and may not be a good candidate for a fixed Home Equity Loan, or a HELOC.
Mutual Security Credit Union offers personal loans with competitive interest rates (including an unsecured home improvement personal loan special with rates as low as 4.99% APR). If you're in a situation where you think a personal loan might be the answer you need, our team of specialists, including Tiffany Keels, are here to answer any of your questions or help you get started.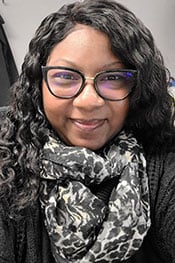 Meet Tiffany Keels, Consumer Credit Analyst.
Q: How long have you been a part of the MSCU Family?
A: I have been a part of the MSCU team for 14 years.
Q: If you could vacation anywhere where would you go?
A: If I could go on vacation I would want to go to Maldives.
Q: What does a typical day look like in your role?
A: Day to day, I spend time reviewing incoming applications for various loan options including auto, VISA credit cards, and personal. I'm also answering calls and emails to support members throughout their loan process to help get them to a quick and seamless close.
Q: What is one of the most important things you have learned at MSCU?
A: The most important thing I've learned is that we are member-owned and provide a safe place to save and borrow at reasonable rates.
Q: What can people use a personal loan for?
A: Personal loans can be used for many reasons such as home repairs, debt consolidation, purchasing an older model or classic vehicle (2010 or older), tuition, medical expenses and the list goes on. Personal loans are just that…personal! At MSCU we work with you to ensure the process, from application to funds disbursement, is quick, easy, and the best option for your needs!
Q: What does the application process for a personal loan look like?
A: When a personal loan application is received, an initial call is made to interview the applicant to understand a bit more about what their goal is for the loan. We make sure the information submitted is correct and request documents like paystubs, credit card statements, etc.
Q: What's something you want our members to know about MSCU?
A: We value each member. Whether it's a question, a deposit, or a loan request - we are here to support your financial needs big or small!
With low rates and a team to help you along the way your goals may not seem so far away! We've got a variety of personal loan solutions to cover your planned—and unexpected—expenses.